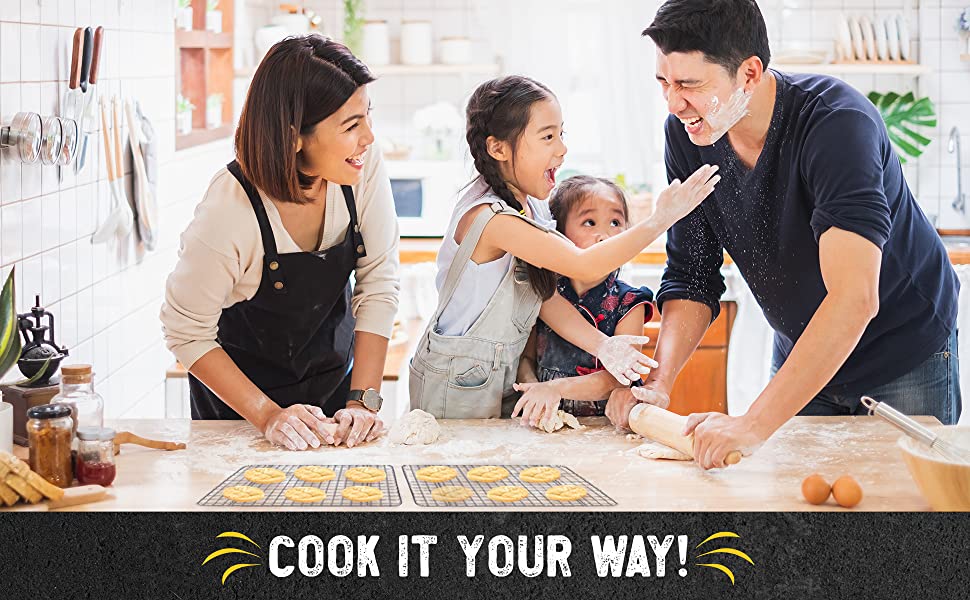 1、Oven Safe: The solid stainless steel construction of our wire rack set makes them perfect for cooking and cooling.
2、Great Size: At 25 x 27 cm, this oven rack set will fit in most standard ovens and cookware sheets. You can slide them over your pan to elevate your food from fat and grease for a healthier meal.
3、No Warp: A master chef needs a sturdy baking rack! With our durable cooling racks for cooking and baking, you won't have to worry about warping and wobbling.
4、Grid Design: No more cookies sliding through the gaps! Our cooking rack set has a perfectly spaced grid pattern to allow for airflow without anything falling through.
5、Fast Cleaning: Easy to use, easier to wash! Get to your goods faster by simply popping these baking cooling racks in the dishwasher when you're all done.
Perfect For Oven-Baked Goods – And Beyond.
There are countless ways a baking rack can improve your cooking: pop this rack on a baking sheet for the oven, let meat from the grill rest for a few minutes, let fried foods crisp up for a moment, and so much more.

Wide Grid Is Efficient For Cooling
The rack's grill set-up allows for air flow to help cool foods quickly. When hot food comes out of the oven or off the grill, you need something to help cool it down so it's safe to eat.

Decorating Made Easy
Follow Us And Learn More
INS:https://www.instagram.com/kasmoire.living.store/
FB Group:https://www.facebook.com/groups/267893068561565
YOUTUBE:https://www.youtube.com/channel/UCGXy8uylXXZJM2jFQWEJJ2w/videos
FB Page:https://www.facebook.com/Kasmoire-Living-Store-105160701942169/?ref=pages_you_manage